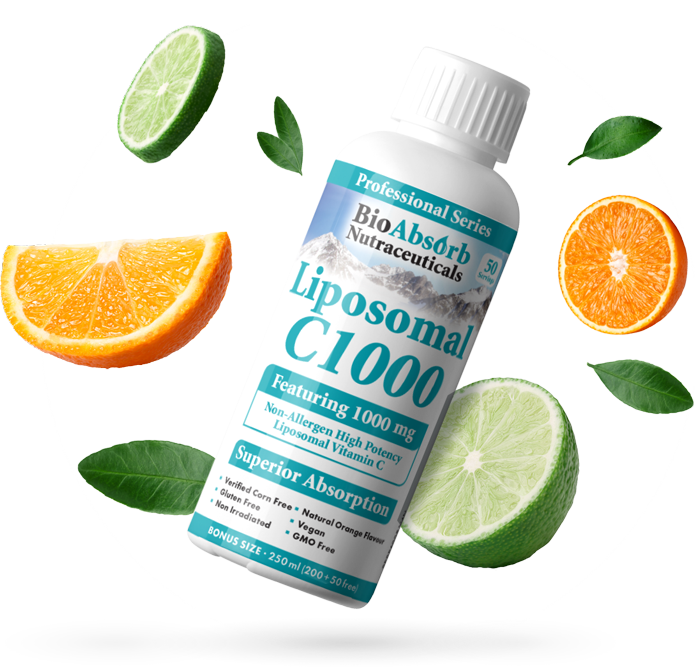 Liposomal Vitamin C. High Quality Support For Our Immunity

🍃Supports immune systems optimal performance

🍃Acts quickly and without tummy issues

🍃 Even up to 9X more absorption than regular vitamins


ORDER NOW

Made In Canada
Manufacturing vitamins &
supplements from 1995




There Is Something We Can Do At This Time
Support our immune system with the right vitamins to protect us from unwanted illnesses.
Whole New Level Of Immunity Support
Vitamin C as one of the best antioxidants fights the agents (molecules) that severely damages cells & tissues.


Without the help of Vitamin C and other antioxidants, severely damaged cells and tissues may lead to a serious health problem.
Introducing
Liposomal Vitamin C
Immunity support with
unparalleled effectiveness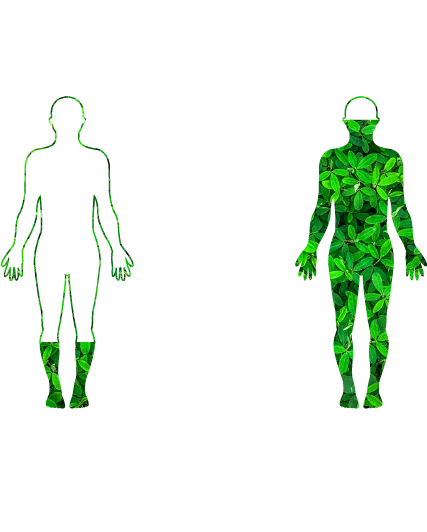 It's not just our immune system that benefits greatly from vitamin c…
Supports optimal cognitive performance (memory, problem solving, logic, etc.).
Supports healthy skin & joints.
Supports muscle repair and recovery.


Finally, The Much Needed Immunity Support To Protect Us From Unwanted Illnesses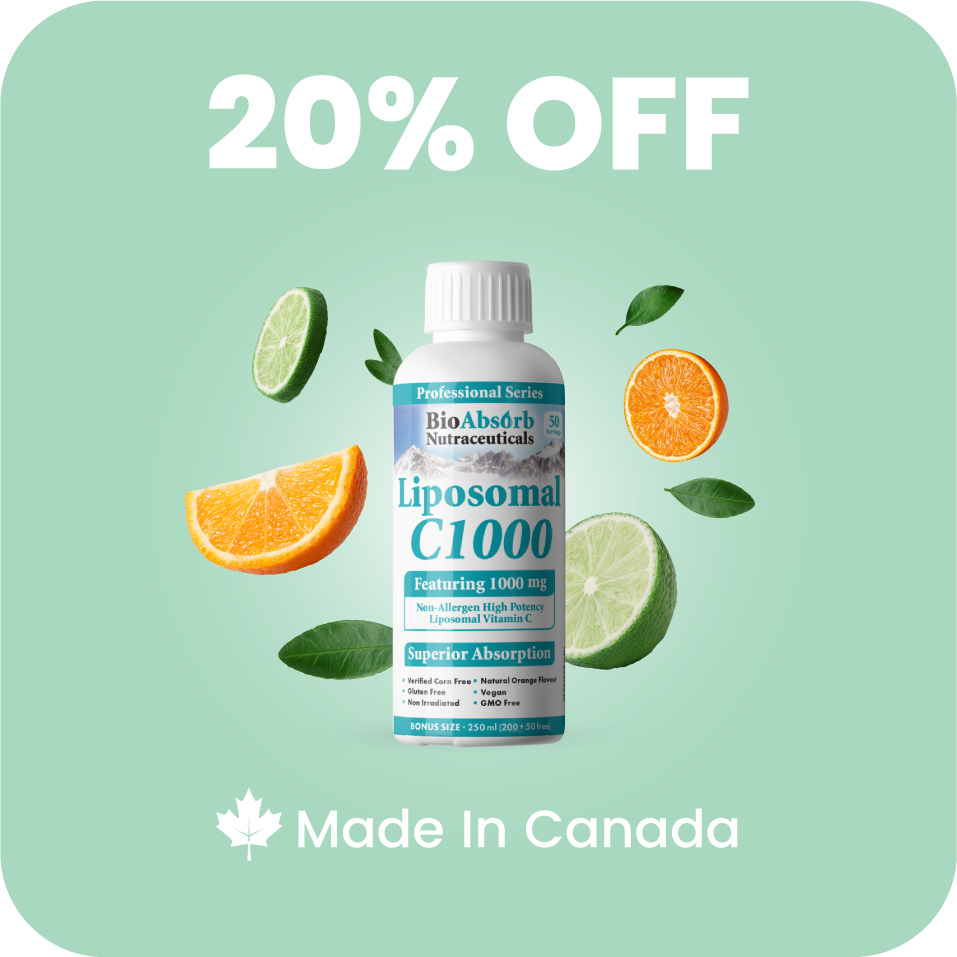 1 Month Immunity Support
250ml
60 Day Money Back Guarantee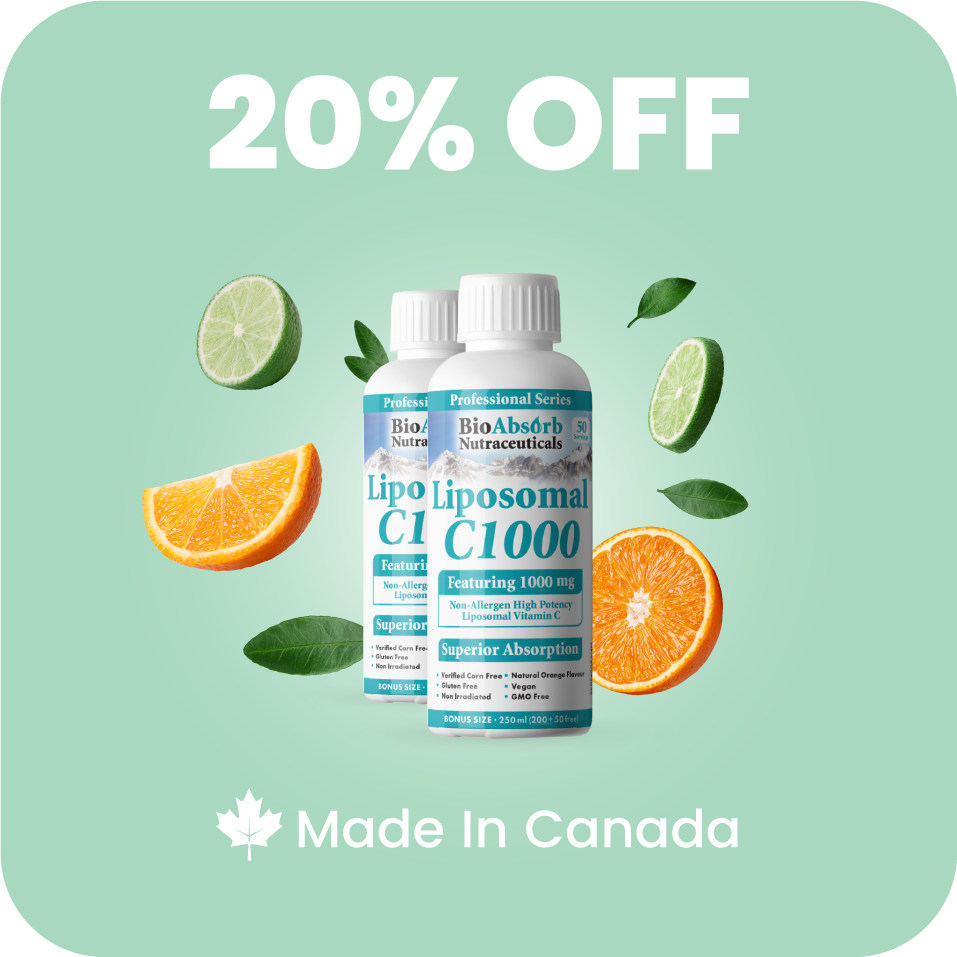 2 Month Immunity Support
500ml
60 Day Money Back Guarantee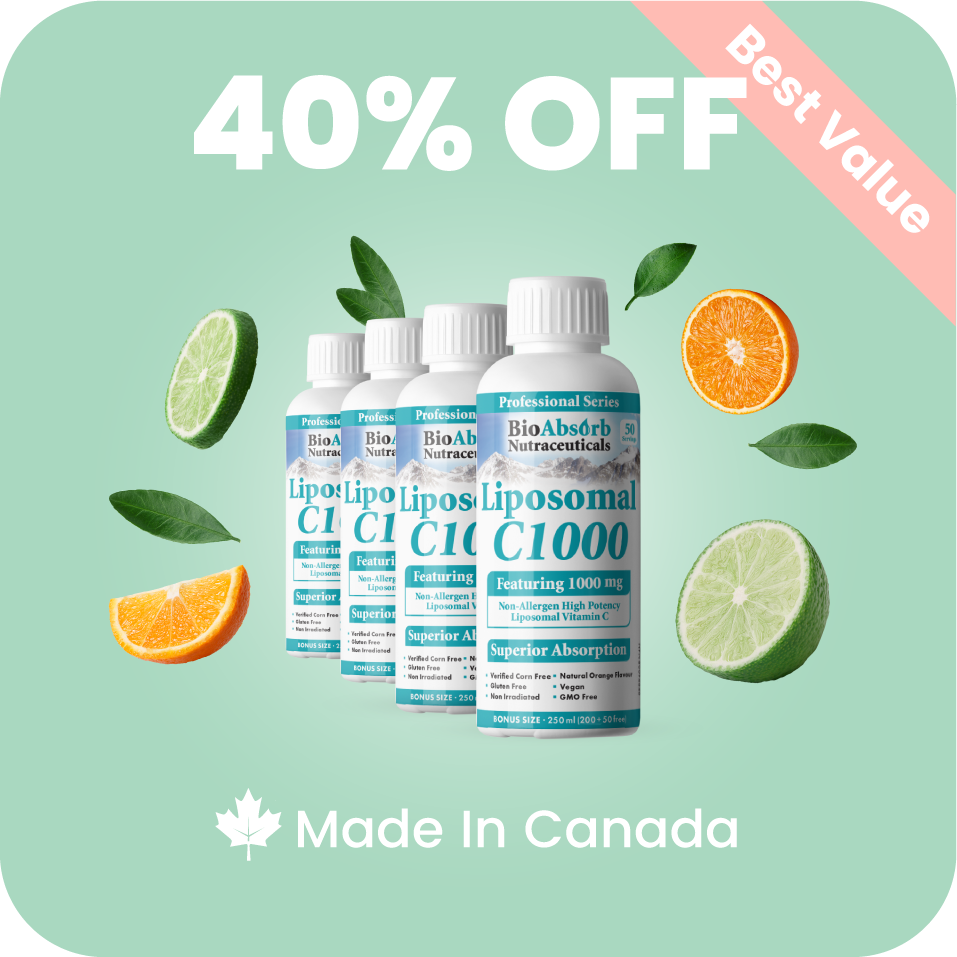 60 Day Money Back Guarantee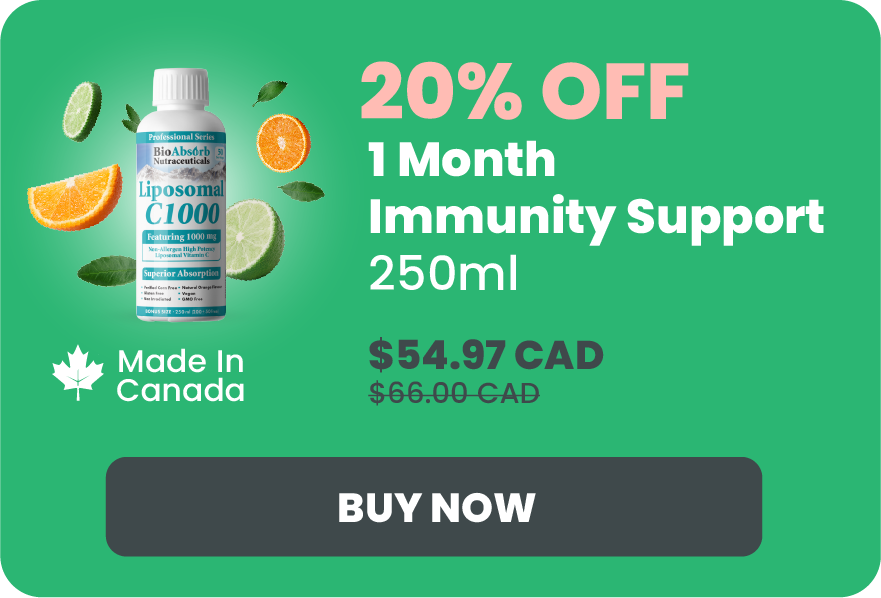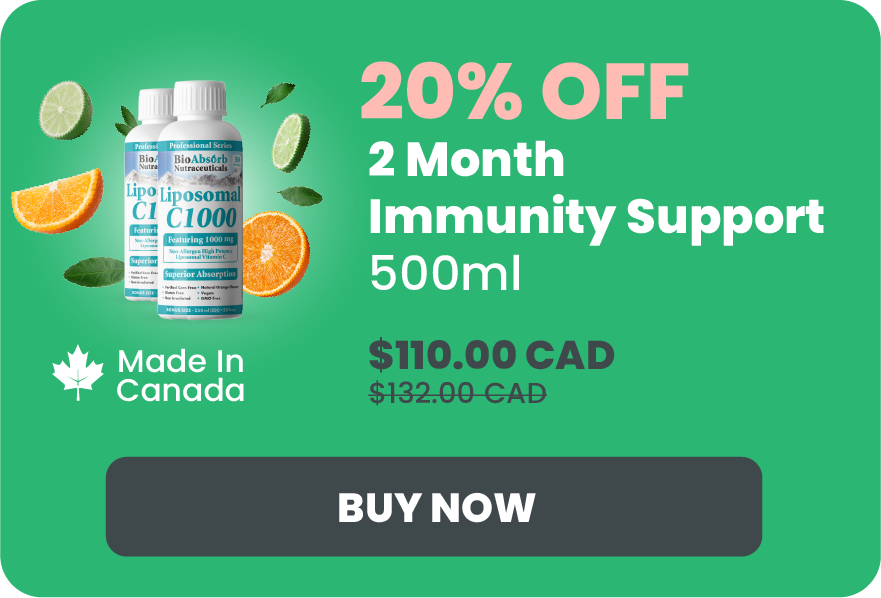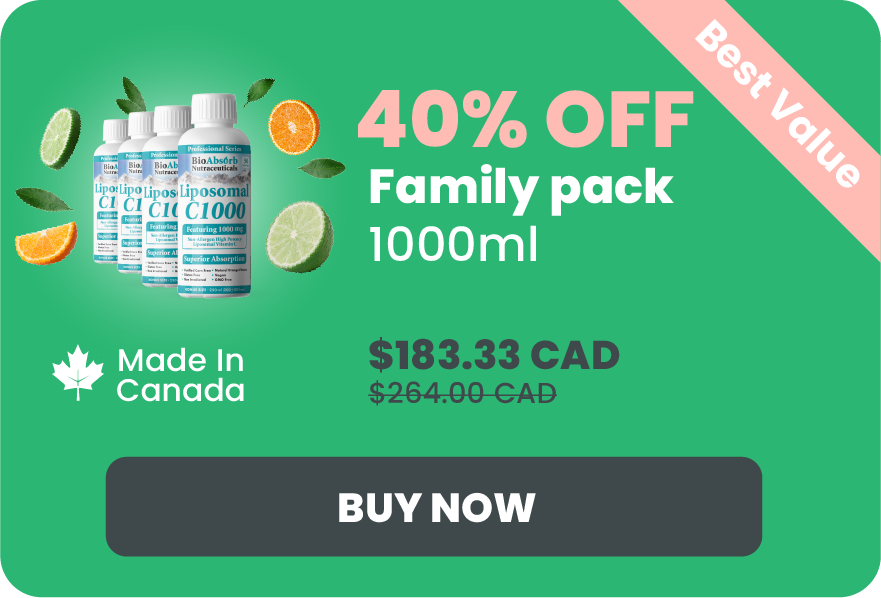 ★★★★★ "It really works!"
I previously come across some articles about the effectiveness of liquid Vitamin C. Thus, when both myself and my 13-year old son were coming down with a cold, I immediately ordered this product. My husband just got over the same virus and it took him almost ten days to fully recover, so I was really motivated not to follow in his steps. We immediately started to take it twice/day, as per instructions. My son gulped it down but I was diluting it with a glass of water for myself. My son got over his cold in three days and it took me just over five days to fully recover. I am convinced that this product helped and am recommending it to all my friends.
- Irina Ovis, verified customer
★★★★★ "It really works!!!!"
I caught a nasty cold, and my aunt recommended trying Liposomal Vitamin C. In 48 hours, I was back to normal. This stuff really works!
- Eddie T, verified customer
★★★★★ "Powerful effective Vitamin C"
Powerful vitamin C, been using daily for several weeks and feeling well. No upset stomach or issues of any sort. Waiting patiently for it to be back in stock to repurchase.
- Krysh, verified customer
Humans Must Ingest Vitamin C For Survival
Human bodies do not develop vitamin c..
..unlike other mammals, but our immune systems thrive and prosper from it.
Regular Vitamin C absorption rate is ~18% and lowers when taken more than 200mg. Eating more won't do the trick. Best alternatives are the costly intravenous injections (I.V.) and liquid Liposomal Vitamin C.
What about food?
The amount of vitamin c has decreased significantly in crops (by 30%)[1]. Also, studies show that only 1 in 10 eat the right type and amount of vegetables regularly. The rest remembers about fuelling their bodies with vitamins when the body shows weakness - symptoms of sickness appear. But then our bodies need a lot more than vegetables can provide.
Here's How It Stacks Up Against
Other Vitamin C Delivery Methods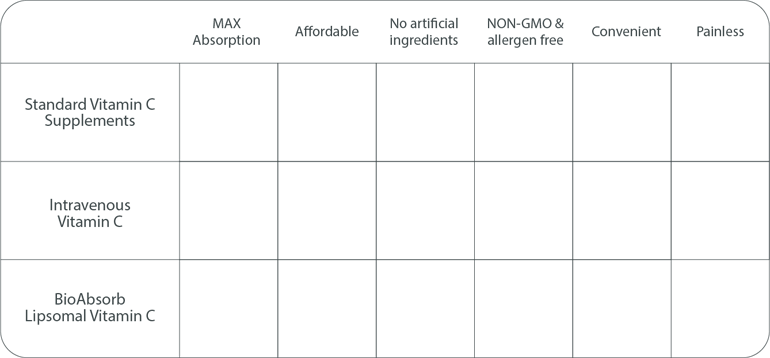 ★★★★★ "Very effective vitamin c"
★★★★ "Great value, great product"
I was impressed with the flavour and quantity of this product for the money. I would recommend it to anyone trying to maintain good health and a healthy immune system.
- J.INTERNICOLA, verified customer
[buy now]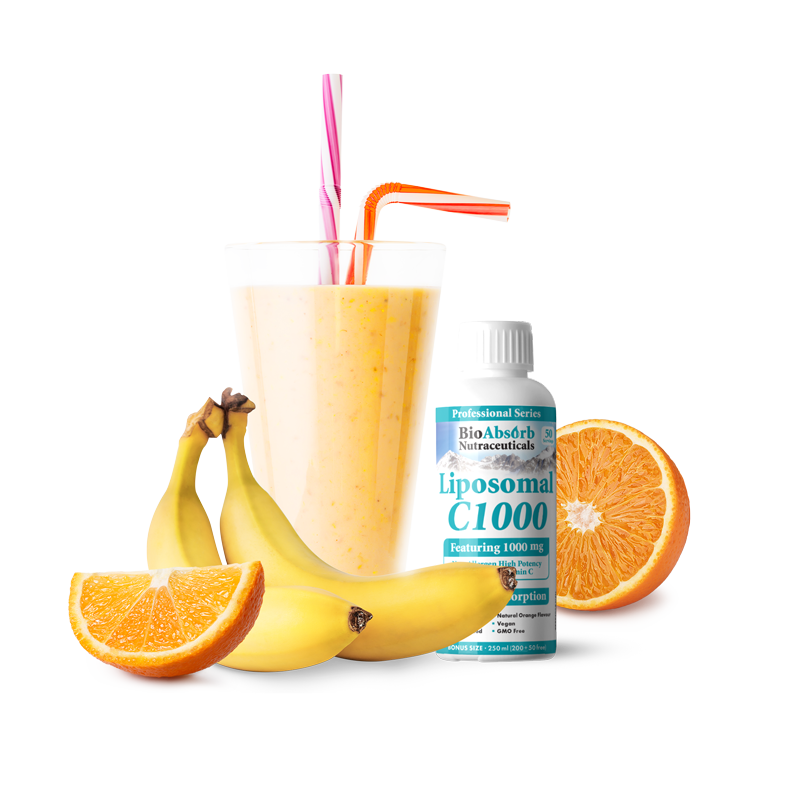 How To Take BioAbsorb Liposomal Vitamin C?
1. Take a glass of water or a smoothy and Bio Absorb's Liposomal Vitamin C
2. Mix it well together
3. And Voila!
Frequently Asked Questions
Q: What is used to sweeten the product?
A: It is sweetened with a stevia leaf extract.
Q: Is your vitamin C soy-free?
A: Yes, it is.

Q: What is the product expiration date?
A: We make our products in small batches. The expiration date is typically between two and three years from the date of purchase.


Q: Are the bottles BPA-free?
A: Yes, all of our plastic bottles are BPA free.


Q: Are your products allergen-friendly?
A: Yes, all of our products are gluten-free, non-GMO, nut-free, dairy-free, and corn-free.


Q: Where are your supplements manufactured?
A: Our supplements are manufactured in Canada in a GMP-certified facility.

Q: Does the product need to be refrigerated after opening?
A: Yes
Q: How long does the product stay fresh after opening?
A: The product maintains its full effectiveness within three months after opening when refrigerated.
Q: What is the size of one serving?
A: Each serving of 5 ml (one teaspoon) contains 1000 mg of vitamin C.


Q: What are the ingredients?


Medical ingredients: each teaspoon (5ml) contains 1000 mg of Vitamin C (Sodium ascorbate).


Non-medical ingredients: Phospholipids (from sunflower), acacia gum, xantham gum, glycerin (vegetable sourced), potassium sorbate, citric acid, stevia leaf extract, natural orange flavor, beta-carotene, natural vitamin E, ethyl alcohol, purified water.
[buy now]
Legal Disclaimer


*These statements have not been evaluated by the Food and Drug Administration. This product is not intended to diagnose, treat, cure, or prevent any disease.

Actual product packaging and materials may contain more and different information than what is shown on our website. We recommend that you do not rely solely on the information presented and that you always read labels, warnings, and directions before using or consuming a product.